HAND-OPERATED WINDSHIELD TO POWER WINDSHIELD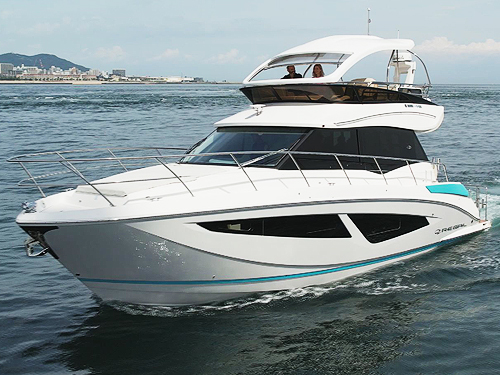 Enriched lineup of FRP hardtop.
Large hardtop in size of over 40 ft has been launched.

Since 2020, we are pleased to offer large FRP hardtop for the boat in sizes as large as 41 ft to 50 ft other than 28 ft to 32 ft 35 ft to 40 ft.
THE CHARACTERISTICS OF TOMA AWNING
POWER WINDSHIELD
The windshield can be so freely opened and closed by switching on to let the wind in or block out the wind. The windshield can be paused completely at the precise position that you choose. You will enjoy refreshing cruising feeling the sea breeze as you o pen the windshield. You can comfortably maneuver the yacht without being exposed to wind at the time of cool weather or when cruising at high speed. Moreover, the windshield won't be rarely wet by sudden rain.
You can keep enough visible space without effect of rain with strong wind by opening windshield about 20~30 cm (8~11 in.) eve nif the windshield gets dirty by water droplets or the front visible space gets worse.
One seamless panel can be kept nice visible view.
We adopt 5 mm (0.2 in.) hard coating polycarbonate which won't be hurt by salty water.
To keep clear visible space, we recommend you to exchange the windshield every 4 years although it depends on the use situation.
AERODYNAMIC DESIGN
We adopt an aerodynamic design which can house the power windshield sliding under the roof.
Because of this, air resistance in the front side can be suppressed as much as possible, and sporty running can be kept, taking pleasure of refreshing cruising with flowing body line.
Elegant body line with less air resistance
It is possible for us to design and adjust products to most yachts with flybridge by semi-custom-made-work. FLATTOP
FLATTOP AWNING

TOMA AWNING
MAINTENANCE COST IS 1/5 OF ENCLOSURE.
For example, it is saying that maintenance cost for enclosure of yachts in size of 36 ft with flybridge is generally JPY1,200,000~1,600,000 to exchange every 3~5 years.
In case of TOMA AWNING, the cost to exchange the panel is JPY 200,000~300,000